Trick Dog
Trick Dog Competition is a new Dogs Australia discipline' which commenced in 2020. Developed by members of Dances With Dogs discipline, the intention of Trick Dogs is to encourage handlers to teach their dogs skills and to display behaviours in a positive environment.
Trick Dog Competition commences at the Starter Class.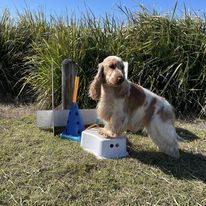 The handler selects (6) six tricks which the dog enjoys doing from a list of fifteen (15) and following training the handler and dog team compete to
gain their Trick Dog Title Starter (TK.S.).

Novice is the next class and as the dog and handler gain more experience
the Tricks are more difficult and the number of Tricks increases to 8. Intermediate Class requires 8 Tricks for competition and each Trick is more difficult in execution and duration.

The Advanced class the dog is required to perform a selection of 10 Advanced Tricks from a list of 25 Trick descriptions.
As many of the tricks are simply an extension of basic obedience training, teaching your dog foundation Tricks can parallel your dog's training. Teaching your dog tricks must be fun. You can teach your dog many tricks, but your dog must truly be enjoying itself. Sessions should be short and fun for both dog and handler.
The Dogs Australia Trick Dog Rules are designed in such a way that handlers and dogs of all abilities are able to compete and enjoy themselves.

Watch this space we are sure that Cockers will excel in this sport and we hope to have pics of our 'Tricky' dogs here soon !!

http://ankc.org.au/media/9384/20-trick-dog-rules-2020v3.pdf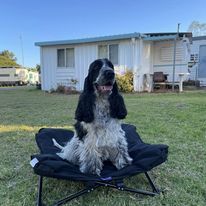 Contact Details
The Secretary, Cocker Spaniel Club of Qld Inc
Brisbane, QLD, Australia
Email :
[email protected]