2023 Results - Catalogues/Critiques/Photos
2023 Results - Catalogues/Critiques/Photos
Results of our Events for 2023
Well done to all our winners- thank you to all the entrants for your support.
July 2023 (Show 1)
Championship Show - Judge Mr John Thompson (VIC)

BEST IN SHOW
CH Kimkiera Who Dares Wins
owned by Melissa Grant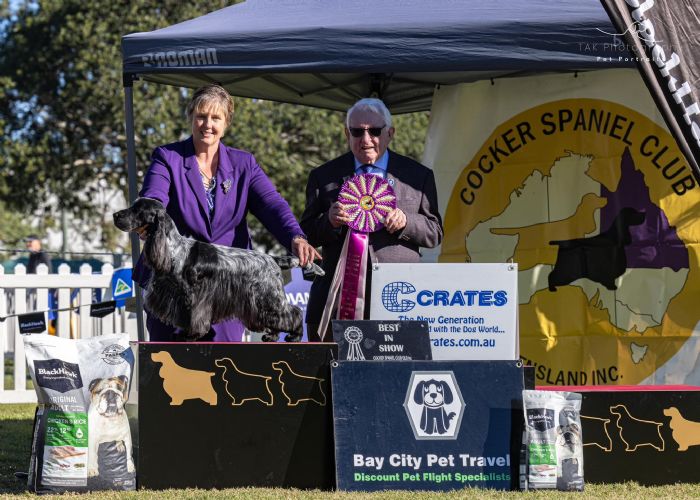 Critiques - Mr John Thompson (VIC)
More photos of the show can be viewed on the TAK Photography website. Thank you Tracey for your time. It is greatly appreciated by the club and exhibitors.
Major Results
| | | |
| --- | --- | --- |
| 8-Jul-23 | Judge: John Thompson (Vic) | Entry: 61 |
| | | |
| Best in Show | Ch Kimkiera Who Dares Wins | Grant |
| Runner up Best in Show | Ch Glenbriar A Fine Romance | McFadden |
| Dog Challenge | Ch Kimkiera Who Dares Wins | Grant |
| Res Dog Challenge | Ch Bathgate My Heart Skipt A Beat (AI) | McFadden/ Douglas |
| Bitch Challenge | Ch Glenbriar A Fine Romance | McFadden |
| Res Bitch Challenge | Ch Kimkiera Aim To Please (AI) | Grant |
| Baby in Show | Glenbriar China Doll | McFadden |
| Runner Up Baby in Show | Tarrendayle Shall We Dance | Dennis |
| Minor in Show | Higait Purple Rain | Oberg |
| Runner Up Minor in Show | Madanwitt The Buck Stops Here | Ugrinic |
| Puppy in Show | Shelpin Royal Mischief Maker | Galpin |
| Runner Up Puppy in Show | Kintail Remember Black Douglas | Grey |
| Junior in Show | Kintail Wicked Spirit | Grey/Hobson |
| Runner Up Junior in Show | Tarrendayle Leave Me Breathless | Dennis |
| Intermediate in Show | Ch Bathgate My Heart Skipt A Beat (AI) | McFadden/ Douglas |
| Runner Up Intermediate in Show | Ch Britebay Willaim Tell | Britebay |
| State Bred in Show | Ch Kimkiera Aim To Please (AI) | Grant |
| Runner Up State Bred in Show | Ch Cobalt Flaming Arrow | Smith |
| Aust Bred in Show | Ch Glenbriar A Fine Romance | McFadden |
| Runner Up Aus Bred in Show | Ch Cobalt Highlander | Bruno |
| Open in Show | Ch Kimkiera Who Dares Wins | Grant |
| Runner Up Open in Show | Ch Glenbriar Summer Haze | Douglas |
| Veteran in Show | Ch Amaclassic Art Waves Kiss (Imp UK) | Hughes |
| Runner Up Veteran in Show | Ch Jodegee Rumble in the Jungle | Galpin |
| Neuter in Show | Nu Ch Sunlore Skys The Limit | Upson |
| Runner Up Neuter in Show | NuCh Drumprintt First Kiss | Hughes |
| Neuter Dog Challenge | Ch Tsparkle Onyx Prince | Smith |
| Res Neuter Dog Challenge | blank | blank |
| Neuter Bitch Challenge | Nu Ch Sunlore Skys The Limit | Upson |
| Res Neuter Bitch Challenge | NuCh Drumprintt First Kiss | Hughes |
July 2023 (Show 2)
Championship Show - Judge Mrs Ann O'Keefe (VIC)
BEST IN SHOW
CH Glenbriar A Fine Romance
owned by Sue McFadden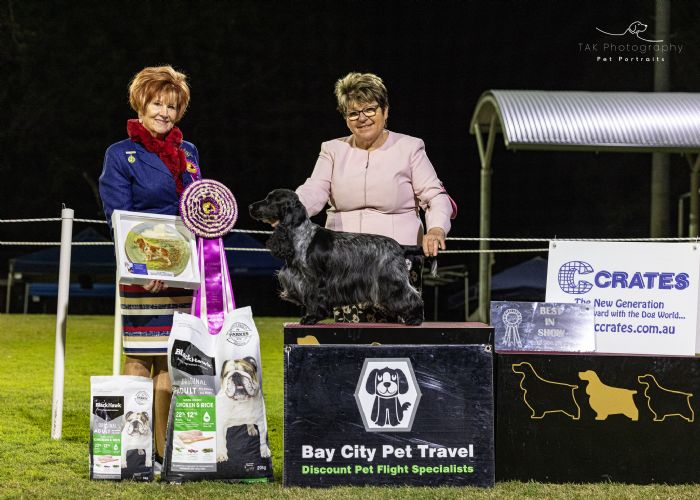 Ann O'Keefe (Glenayden) Judges Critique
Major Results
| | | |
| --- | --- | --- |
| 8-Jul-23 | Judge: Mrs Ann O'Keefe (Vic) | Entry: 53 |
| | | |
| Best in Show | Ch Glenbriar A Fine Romance | McFadden |
| Runner up Best in Show | Ch Kimkiera Who Dares Wins | Grant |
| Dog Challenge | Ch Kimkiera Who Dares Wins | Grant |
| Res Dog Challenge | Ch Bathgate My Heart Skipt A Beat (AI) | McFadden/ Douglas |
| Bitch Challenge | Ch Glenbriar A Fine Romance | McFadden |
| Res Bitch Challenge | Kimkiera Kiss Me Kate (AI) | Grant |
| Baby in Show | Tarrendayle Covermein Diamonds | Dennis |
| Runner Up Baby in Show | Glenbriar China Doll | McFadden |
| Minor in Show | Madanwitt The Buck Stops Here | Ugrinic |
| Runner Up Minor in Show | Tsparkle Silver Seafoam | Smith |
| Puppy in Show | Shelpin Royal Mischief Maker | Galpin |
| Runner Up Puppy in Show | Kintail Remember Black Douglas | Grey |
| Junior in Show | Tarrendayle Leave Me Breathless | Dennis |
| Runner Up Junior in Show | Bathgate By Design (AI) | Douglas |
| Intermediate in Show | Ch Bathgate My Heart Skipt A Beat (AI) | McFadden/ Douglas |
| Runner Up Intermediate in Show | Kimkiera Kiss Me Kate (AI) | Grant |
| State Bred in Show | Madanwitt Keepin It Legal At Tarrendayle | Dennis |
| Runner Up State Bred in Show | Ch Kimkiera Aim To Please (AI) | Grant |
| Aust Bred in Show | Ch Glenbriar A Fine Romance | McFadden |
| Runner Up Aus Bred in Show | Brayroan Mischief n Mayhem | Newbold |
| Open in Show | Ch Kimkiera Who Dares Wins | Grant |
| Runner Up Open in Show | Ch Ravensnite Sno Money | Ugrinic |
| Veteran in Show | Ch Bolwarra Inspire SWN | Hughes/ Markotany |
| Runner Up Veteran in Show | Ch Jodegee Rumble in the Jungle | Galpin |
| Neuter in Show | Nu Ch Drumprintt First Kiss | Hughes |
| Runner Up Neuter in Show | Nu Ch Sunlore Skys The Limit | Upson |
| Neuter Dog Challenge | Ch Tsparkle Onyx Prince | Smith |
| Res Neuter Dog Challenge | blank | blank |
| Neuter Bitch Challenge | Nu Ch Drumprintt First Kiss | Hughes |
| Res Neuter Bitch Challenge | Nu Ch Sunlore Skys The Limit | Upson |
Contact Details
The Secretary, Cocker Spaniel Club of Qld Inc
Brisbane, QLD, Australia
Email :
[email protected]